PAIFUP Client Success: Joshua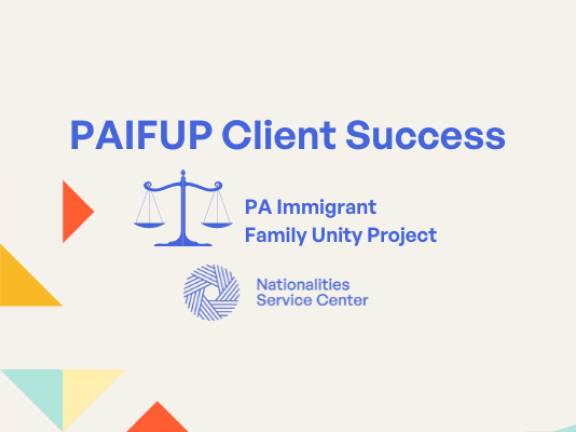 PAIFUP, the PA Immigrant Family Unity Project, is Pennsylvania's first publicly funded defense counsel project for immigrants who are in detention. NSC is proud to work in collaboration with a coalition of organizations as part of this important project.
One NSC PAIFUP client, Joshua, is originally from South Korea, and has lived in Pennsylvania with his family for nearly 30 years. His elderly parents are naturalized U.S. citizens with very limited English proficiency, and he has long been the primary caretaker for his mother, who requires around-the-clock assistance due to a complex medical history that includes stroke, insulin-dependent diabetes, blindness, heart problems, and Alzheimer's.
In October 2021, Joshua was arrested following a family dispute in which he fought with his brother. No one suffered any significant injuries, but due to language barriers, the incident report included serious yet false allegations. While awaiting trial in county jail, Joshua was physically assaulted, resulting in emergency hospitalization and lasting medical and psychological effects. In July 2022, he was transferred to ICE detention, nearly four hours away from his family.
Joshua was screened by PAIFUP and assigned representation in early October 2022, with the goal of release on bond, so that he could resume helping his parents, whose health had declined greatly in his absence. Joshua's father lost a quarter of his weight and struggled to take care of his wife by himself, and due to worsening dementia, Joshua's mother experienced constant distress and disorientation about where he had gone.
With the help of his family, friends, and PAIFUP attorneys, as well as community organizations including the Korean Community Development Services Center and VietLead, Joshua was released from detention on bond. PAIFUP will continue to assist him in pursuing multiple avenues of immigration relief.
To stay informed about how PAIFUP attorneys are assisting clients in detention, check out the PAIFUP Newsletter and sign up!