PAIFUP Client Success: Thomas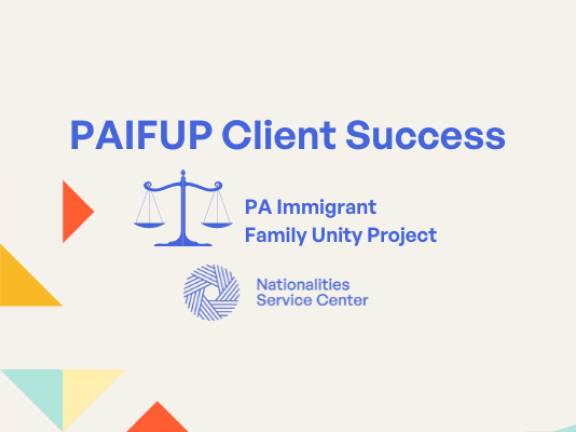 PAIFUP, the PA Immigrant Family Unity Project, is Pennsylvania's first publicly funded defense counsel project for immigrants who are in detention. NSC is proud to work in collaboration with a coalition of organizations as part of this important project.
A PAIFUP client "Thomas" was born in Jamaica and came to the Philadelphia area when he was 14 years old as a lawful permanent resident, with his parents. Due to undiagnosed mental illness and physical abuse he suffered as a child, Thomas had difficulty controlling his emotions, leading to contact with the criminal system. This resulted in his incarceration as a juvenile and into his early 20s.
While incarcerated, he was placed into removal proceedings, and could not afford an attorney, so he went forward pro se. An immigration judge incorrectly found that he had committed an aggravated felony, denied him the opportunity to apply for relief, and informed him he had no rights in his proceedings, except the right to appeal. Thomas was never asked if he feared return to his home country, though he did. Thomas appealed, but without a lawyer, he could not make strong arguments to overcome his removal order, so he awaited release from incarceration to be deported.
Upon release from custody, he was detained by ICE in Pennsylvania, where ICE immediately began to make efforts to deport him. Thomas got in contact with PAIFUP, and was an assigned an attorney who began representing him in June 2021. Counsel realized that the Immigration Judge had made numerous mistakes in his proceeding, and Thomas had a real claim for relief from removal, especially given his diagnosis of mental illness after his prior immigration proceedings. As counsel was preparing materials and a motion to reopen his case to ask for the chance to seek asylum, ICE moved Thomas from a mental health facility to a detention facility in Georgia, in an effort deport him. Counsel immediately filed the motion to reopen and an emergency stay of removal and Thomas was taken off the flight on the morning it was set to depart.
Ultimately, Thomas' motion to reopen was granted, and his case was sent back to the Immigration Court for a competency hearing and then a final hearing on his asylum claim. All the while he was awaiting his case, his counsel requested over and over for Thomas to be released from custody, given that he was not receiving proper medical or mental health care and had been diagnosed with Post-Traumatic Stress Disorder. He was also being held at a facility known for violating detention standards and failing to provide adequate mental health and medical care. These requests were repeatedly denied, without explanation from ICE. Because of the facility's inability to treat Thomas appropriately, they persistently placed him in solitary confinement.
The Immigration Court held three long and contentious hearings on Thomas' asylum application in the Summer of 2022. Thomas' PAIFUP attorney argued that Thomas warranted asylum on the basis of his mental illness. In support of his claim, counsel recruited two medical doctors and a country conditions expert, and ensured safeguards were in place to protect Thomas from being re-traumatized during his case. The government argued that Thomas should be barred from asylum due to his criminal record.
Counsel argued that any criminal record was mitigated by his mental health conditions, a novel and un-tested argument based on a newly released decision from the Attorney General stating that mental health should be taken into consideration where an individual has mental health conditions. The Immigration Judge agreed with counsel's arguments, and granted Thomas asylum in December 2022. A few days after this grant, Thomas was released to his family in Pennsylvania, where is building a new life, getting the treatment he needs, and working to give back to his community.
Thomas credits his PAIFUP attorney with saving his life and believing in him when the system had failed him. He wrote to his attorney after his release: "Words cannot define my appreciation and gratitude . . . Even though there is no way that I can verbalize my thankfulness to you, I must still take a go at it. . . You are a truly a blessing in the skies to me and everyone you deal with. I don't say this just because of the blessings you have accomplished for me, but I hope you know just much your thoughtfulness is appreciated. Thank you."
To stay informed about how PAIFUP attorneys are assisting clients in detention, check out the PAIFUP Newsletter and sign up!