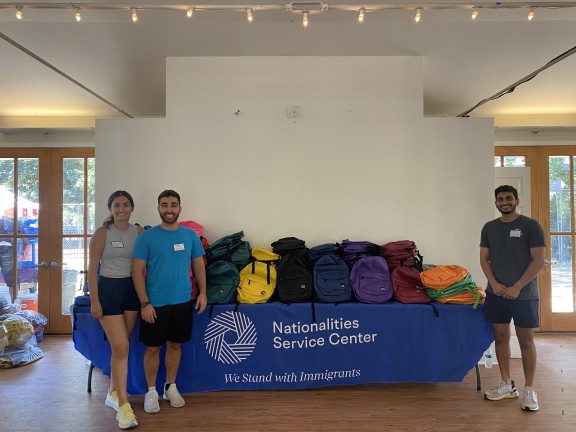 We are grateful for your interest and generosity in donating items to Nationalities Service Center.
Creating a sense of home for those who have been uprooted is incredibly important. During their flight and temporary living situations, clients have often been unable to choose for themselves, yielding instead to the rules, regulations and scarcity of limited resources.
At NSC we have the opportunity to respect their journey and dignity by providing clients with quality goods to call their own and personal items to help individuals and families feel more comfortable. Thank you for choosing to donate goods to NSC.
Gift Cards:
NSC gratefully accepts Visa, American Express, and Mastercard gift cards. We also appreciate gift cards to local food, department and clothing stores such as Target, Acme, Burlington, Wal-Mart, and ShopRite.
Why donate a gift card? Our food, clothing, toiletries, and household items say a lot about who we are. Enabling clients to make these small everyday choices empowers them to define themselves.
Gift cards donated to NSC go directly to the client.
Amazon Wish List:
Help our clients fill their homes with the items they want by ordering items from our Amazon Wish List.
Interested in organizing a drive to collect new supplies?
Clothing:
NSC does not currently accept clothing donations, but we do partner with several organizations that provide clothing to our clients and families. We encourage financial and in-kind donations to the follow organizations:

Cradles to Crayons provides children from birth through age 12, living in homeless or low-income situations, with the essential items they need to thrive — at home, at school, and at play.
The Wardrobe provides well-maintained and displayed clothing that is suitable for any need, from casual to workwear. Clothing is available for sale and it is also available cost-free to anyone referred.
JCFS' Our Closet free clothing program provides emergency packages for community members in urgent need during the covid crisis.
Furniture Donations:
Please consider donating to our partner, Pathway to Housing's Philadelphia Furniture Bank, which serves as a centralized resource for furniture for human service organizations from across Philadelphia. Member agencies schedule appointments for clients to visit the showroom to select a full home's worth of furniture, including brand new bedding.
Seasonal Initiatives:
Hygiene:
NSC provides clients with hygiene items when they arrive and on a monthly basis through the Food Pantry. We have an Amazon Wish List for hygiene items.
Questions? Contact donations@nscphila.org.