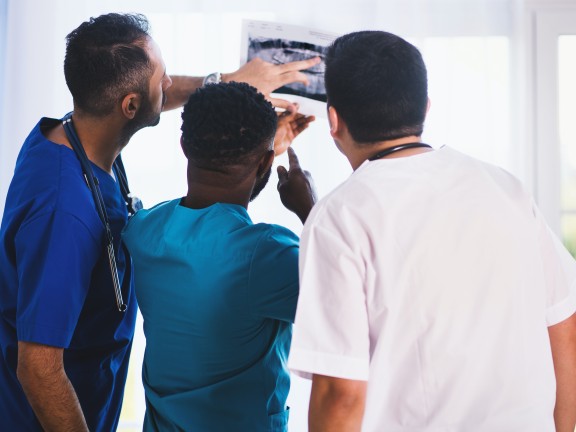 Our translators and interpreters work with clients from many different industries and sectors. This is a small sampling of what we do.
Government
We work with federal, state, local, and international government documents on a regular basis.
For example, we translate forms for city government, massive training manuals for the military, and international adoption papers for a family who needs help navigating the system.
We're also familiar with federal RFP and bidding procedures.
Nonprofit
We handle everything from large-donor fundraising to street-level social work and can provide the interpreters and translators you need to handle any situation.
Our affordable prices make us a great option for nonprofits with tight budgets.
Legal
We work with the National Association of Judiciary Interpreters and Translators (NAJIT) and other professional groups to find the most qualified specialists in legal translation.
We translate lengthy legal contracts, arbitration agreements, and other documents; provide certified courtroom interpreters; and work with the courts, police, immigration agencies, and governments to bring accurate, professional legal translation and interpretation to the people who need it most.
Medical & Pharmaceutical
In medical situations, a life may very well depend on whether a certain word is understood correctly.
Our medical translators and interpreters are dedicated to complete accuracy, whether they are translating technical pharmaceutical research or making sure an emergency room doctor fully understands a patient's medical history.
Marketing & Advertising
A sales pitch is a delicate thing. What works in one language or culture might be completely inappropriate in another - so it's important to have culturally proficient native speakers translating all of your marketing, advertising, and marketing research materials.
Our interpreters understand how focus groups work, and our translators are experienced with marketing research and surveys. Let us help you make sure your target audience gets the message.
Technology
NSC's interpreters can handle technical documents, whether they involve computer science, engineering, chemistry, physics, or complex machinery.
We work with CADD and other technical software.
Education
We are committed to helping students of all nationalities succeed, and we work with educators to provide learning materials, classroom interpretation, ASL interpretation, and other services inside and outside the classroom.
Film & Arts
We have experience working with television production companies and renowned museums.
Our interpreters have facilitated communication on behalf of production managers and international artists alike.
If you don't see your field listed, contact us to find out how we can help you.