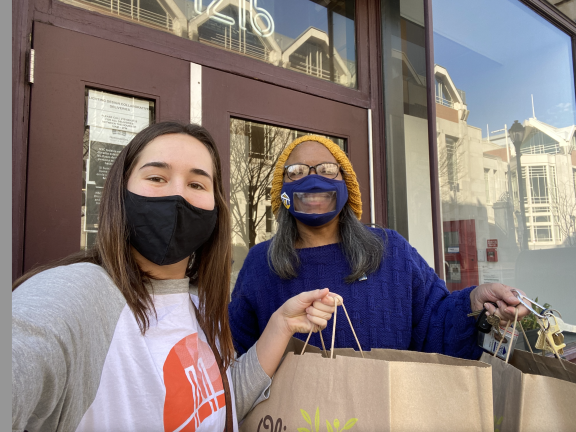 Key partners help NSC make a difference in our community — Thank you!
ACANA (African Cultural Alliance of North America)
ACANA serves African and Caribbean immigrants by providing access to social and legal services, community development programs, health services, organizing African arts and culture events, and an array of many other services.
African Family Health Organization (AFAHO)
Provides culturally sensitive health, human, and education services to African and Caribbean immigrants and refugees in greater Philadelphia.
Africom
AFRICOM's vision is to build a strong and inclusive African and Caribbean immigrant and refugee community with all the nationalities.
Al-Bustan Seeds of Culture
Al-Bustan Seeds of Culture is dedicated to presenting and teaching Arab culture through the arts and language.
Asian Americans United
Asian Americans United exists so that people of Asian ancestry in Philadelphia exercise leadership to build their communities and unite to challenge oppression.
Bethany Christian Services
Faith-driven social services agency.
Cambodian Association of Greater Philadelphia
Improves the quality of life of Cambodian-Americans in Greater Philadelphia.
Campaign for Working Families
A non-profit organization committed to helping working families and individuals achieve economic empowerment by providing free tax preparation, resource building and asset development.
Catholic Social Services
Provides a network of social service programs, family service centers, senior centers, and community centers for people in need.
Ceiba
Promotes the economic development and financial inclusion of the Latino community in Philadelphia through collaborations and advocacy aimed at ensuring their access to quality housing.
City of Philadelphia, Office of Immigrant Affairs
Promotes the well-being of Philadelphia's immigrant communities by recommending and developing policies and programs that create opportunity and access to services.
Community Legal Services
Provides free legal advice and representation to low income residents of Philadelphia.
Council for Relationships
Helping people improve their important relationships by providing exemplary therapy, educating mental health professionals and training clinicians.
Free Library of Philadelphia Culinary Literacy Center
Advancing literacy in Philadelphia in a unique and innovative way—with a fork and a spoon.
HIAS Pennsylvania
Provides legal and social services to low-income and at-risk immigrants and refugees.
ICNA Relief: Refugee Task Force Philadelphia
Collaborates to streamline services in partnership with the major resettlement agencies in Philadelphia.
Jefferson Center for Refugee Health, Department of Family & Community Medicine
Provides medical care to refugees and trains family medicine physicians in refugee health care.
Jefferson Refugee Health Partners
Aims to empower refugees to be active participants in their own community and healthcare, as well as foster culturally-conscious care within the Jefferson community.
Justice at Work
Provides free legal assistance for low-wage and immigrant workers in Pennsylvania.
Mercy Volunteer Corps
Mercy Volunteer Corps promotes social change by placing and supporting volunteers for one year of service with people who are experiencing injustices, in any form, in the United States and Guyana, South America.
Mural Arts Philadelphia
The nation's largest public art program, dedicated to the belief that art ignites change.
National Health Corps - Philadelphia
Places members in community-based organizations and healthcare settings that work to improve access to care and to help individuals and communities become healthier.
Nemours Pediatric Clinic
One of the nation's largest health systems devoted to pediatric patient care, teaching and research.
New Sanctuary Movement
Builds community across faith, ethnicity, and class in our work to end injustices against immigrants regardless of immigration status and express radical welcome for all.
Philabundance
Works to drive hunger from our communities today and to end hunger for good through food distribution, reducing food waste, increasing access to nutritious meals, and tackling the root causes of hunger.
Quaker Voluntary Service
Quaker Voluntary Service is an experiment at the intersection of transformational spirituality and activism, a year-long program for young adults.
SEAMAAC (Southeast Asian Mutual Assistance Association Coalition)
Serves and advocates for refugees, immigrants, and asylees in the Greater Philadelphia area.
U.S. Committee for Refugees and Immigrants
Protects the rights and addresses the needs of people in forced or voluntary migration worldwide and supports their transition to a dignified life.
University of Pennsylvania, School of Dental Medicine
Provides dental care to refugees and survivors of psychological and physical violence in partnership with NSC.
Welcoming Center
Promotes inclusive economic growth through immigrant integration.