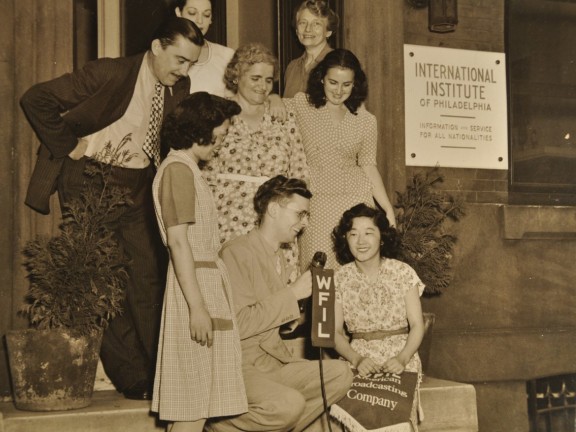 For 100 years NSC has enriched Philadelphia by welcoming immigrants and building community.
In the early 20th century, a network of community-based social welfare agencies known as International Institutes arose in 55 cities across the United States. The Institutes saw immigrants as full members of the community, whose cultures and customs could enrich the country.
Originally founded as the International Institute of Philadelphia as part of this growing movement, Nationalities Service Center (NSC) was started in 1922 to help immigrant women acquire language proficiency and gain citizenship. In its initial years, the organization provided English language instruction, recreational activities, and assistance with employment and housing. When immigration policy became more restrictive in the 1920s, NSC began connecting immigrants to appropriate legal assistance and serving both women and their families.
The 20th century saw dramatic movements of people due to World War I and World War II, and NSC assisted displaced people. During the Second World War, NSC helped foster community and support to Japanese Americans who faced internment and discrimination, who were relocated to this region. As immigration became more diverse in the post-war period, NSC continued to welcome immigrants from all over the world, promoting their integration in Philadelphia and cultural diversity.
Promoting diversity was a deeply held part of NSC's mission. In 1936, the agency held the first Folk Festival, a recurring tradition that showcased Philadelphia's pluralism. The first International Festival (the precursor to today's Global Tastes events) was held in 1949. Serving food from 16 countries was a way of connecting people.
In the 1950s and 1960s, NSC served those fleeing Eastern Europe and elsewhere, including Cuba. in the 1970s and 1980s, NSC helped resettle people displaced by the war in Vietnam, assisting with housing, English language classes, and mental health services. In the 1990s, NSC took on more cases of immigrants held in detention, offering legal services and other supports. In the 2000s, NSC expanded its work to provide support to survivors of domestic violence.
In recent years, NSC has helped resettle and support those fleeing Syria, Afghanistan, Ukraine and elsewhere. NSC also responded to the global pandemic by providing resources and support, and hosting a vaccination clinic for clients.
Since its founding, NSC has expanded and transformed to meet the changing and increasingly complex needs of immigrants and refugees. Despite programmatic and structural changes over the years, NSC's dedication to serving all immigrants and refugees and its philosophy of providing comprehensive services in one location have remained steadfast.
For more than a century, NSC has been a critical part of the Philadelphia community. Today, NSC serves 5,000 immigrants and refugees each year from over 100 countries around the world. NSC has never wavered from our founding commitment to assist all newcomers with building a solid foundation for a self-sustaining and dignified future.
Nationalities Service Center's Archival Records can be accessed at the Urban Archives at Temple University. Please email us at media@nscphila.org if you publish research related to NSC's history or its records!