Spotlight on Senior Corps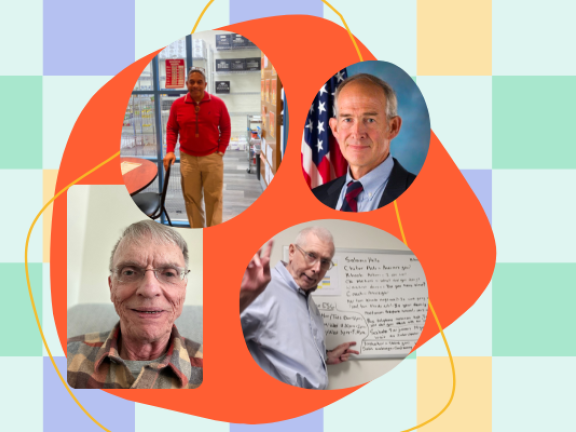 NSC is proud to host several Americorps Senior volunteers who bring their skills and experiences to support our clients in myriad ways. If you are 55 or older and are interested in joining us through Senior Corps, please check out the project descriptions for which we are recruiting!
Let us introduce you to our Senior Corps members, in their own words:
Darrell Allen, Food Pantry Specialist
I am recently retired and wanted to find away to serve and give back to the community.
My favorite part is the people that I work with and the customers that we serve.
I have enjoyed assisting many of the Afghan families and sharing stories of my time in Afghanistan and the many places that I have been while there.
Howard Gibson, Employment ESL Teacher
I am retired and now can spend a lot of time teaching English. I started teaching ESL part-time when I was 55 — I love teaching! I am 72 now.
I learned that NSC is currently very busy finding jobs and housing for Afghanistan and Ukrainian refugees who are pouring into Philadelphia. NSC was looking for Senior Corps members to teach ESL to these people so the refugees can function in the U.S. An incredibly important job!
I teach various levels of English to the refugees. The upper level classes are pretty much the same as any ESL class taught anywhere. However, the students at NSC are going through a lot -- they worry about the family members they left behind, they worry about new jobs and new schools for their children. Leaving your country with almost nothing! I am very glad I have the chance to help them a little.
I think John Dewey said something like, "To be a good teacher, you have to love the subject and you have to love the students." Check and check -- I love English and I love the students at NSC.
Leslie Weiler, Financial Literacy Specialist
I became a Senior Corp member to work with clients during their integration/ assimilation into American society and ease their escape from a difficult homeland.
I have had many roles at NSC such as helping case managers with documentation, obtaining benefits, identification, setting up bank accounts and now financial literacy that includes how to pay bills, saving, use of debit and credit cards and budgeting.
My favorite part of working at NSC is working with the clients.
Peter Khrumbhaar, Financial Literacy Specialist
During my lengthy career with the Social Security Administration, I enjoyed working with former refugee co-workers, as well as assisting refugees to file for benefits. My interest in international relations was also a contributing factor in prompting me to apply as a Senior Corps member.
As a financial literacy volunteer for the past two weeks, I have been jointly tasked with drafting and implementing a financial literacy curriculum for refugees. Soon, I will meet with refugees to provide financial literacy education.
My favorite part of my job so far is learning about NSC, meeting the staff and developing a financial literacy curriculum.
We are filled with gratitude for the contributions of our Senior Corps members.