Media Advisory: Philly's Immigrant Chefs Come Together for Global Tastes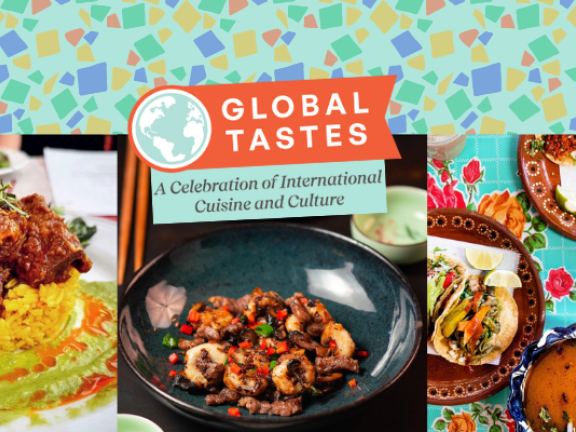 Philadelphia, PA — At Global Tastes, hundreds will gather to celebrate Philadelphia's immigrant communities. More than 20 local restaurants — including Hardena, Kampar Kitchen, and South Philly Barbacoa — are participating, and the event will feature global entertainment and dance (see full list below). WHYY's Maiken Scott will emcee. Global Tastes benefits Nationalities Service Center, a Philadelphia institution that has served immigrants and made the city a more inclusive, diverse place for more than 100 years.
Philadelphia was recently named a Certified Welcoming City, a designation that comes amid a national climate that is increasingly hostile to immigrants.
"Like the people we serve, we are resilient," says NSC Executive Director Margaret O'Sullivan. "Events like Global Tastes not only generate needed revenue so that we can help newcomers establish solid, sustainable, and dignified futures, but they also invite the broader Philadelphia community to reflect on and celebrate what immigrants bring to our city."
At Global Tastes, NSC is honoring Thi Phan, Esq., Senior Advisor and Executive Consultant at Cigna, for her contributions to the health services field and advocating for culturally appropriate services for immigrants and refugees, and Robert F. Smith, Regional Vice President of Community Impact at Comcast, a champion for digital literacy and inclusion.
What: Global Tastes
When: Thursday, April 27, 2023, VIP 6-7 PM, sponsored by Brulee Catering; General event 7-10 PM
Where: The Quorum at the University City Science Center, 3675 Market Street, Philadelphia, PA
Contact: Steven Larín, NSC Deputy Director, slarin@nscphila.org, 215-609-1530
###
About Nationalities Service Center
NSC serves 5,000 immigrants and refugees in the Greater Philadelphia area each year. We offer comprehensive services in language access, legal protections, community integration, employment and health and wellness. For over 100 years, NSC has never wavered from our founding commitment to assist all newcomers with building a solid foundation for a self-sustaining and dignified future. Read more at nscphila.org
2023 Participating Restaurants
Bloomsday Café
Cake Life Bake Shop
El Merkury
Everybody Eats
Hardena
Honeysuckle Provisions
Jammie's Creative Food Services
Kampar
Kampar Kitchen & Càphê Roasters
Kings & Queens Liberian Cuisine
Malooga Middle Eastern
Margie's Cuisine
PhillyTacos
Pita Chip Philly
Reggae Reggae Vibes
Reuby
South Philly Barbacoa
Sri's Company
Tambayan
The Wonton Project
Entertainment
Maiken Scott, WHYY, emcee
Ballet Folklórico Yaretzi
M'oudswing
Philadelphia Suns – Lion Dancers
The Voloshky School of Ukrainian Dance
Sponsors
Morgan Lewis with Jim & Mimi McKenzie
Phil Straus & Margaret Harris
Teresa Wallace & John Chou
Comcast
Bentley Systems
Janet & John Haas
Reed Smith
Tait Weller
Albrecht Events
Athena Global Advisors
Blank Rome
Eckert Seamens Cherin & Mellott, LLC
Ernst & Young LLP
Intealth
Landau Hess Simon Choi & Doebley
Shannon McClure Roberts
Penn Medicine
TD Bank
Thomas Jefferson University and Jefferson Health
Troutman Pepper
WSFS Cares Foundation
Brulee Catering