Background
The world is experiencing an unprecedented humanitarian crisis, with a record-breaking 70 million persons displaced–26 million of whom are refugees. The state of refugee resettlement is dichotomous with the needs for safe refuge: with a record-breaking amount of people globally displaced, the United States has drastically cut its admissions numbers to historic lows. While nearly 85,000 refugees arrived to the United States in 2016, admissions plummeted to 53,716 in 2017 and fell further to 22,491 in 2018. There is serious concern that refugee admissions may be cut further and that the federal resettlement program entirely ended.
Declining numbers and threats to resettlement are just one facet of a grave reality: that within and at our borders, migrants and immigrants are targeted by institutional changes and efforts that have created a climate of fear. The Deferred Acton for Childhood Arrivals (DACA) and Temporary Protected Status (TPS) programs are under threat, leaving roughly one million residents at-risk of deportation. The decades-long principle of family-based immigration, paramount to family reunification, is also in jeopardy. Proposed changes to the public charge rule have created widespread confusion and prompted many immigrants and lawful status holders from receiving public assistance for which they are eligible.
At the U.S. Southern Border, migrant apprehensions are at the highest level since 2012. U.S. Customs and Border Protection are overwhelmed, lacking both the facilities and staff capacity to adequately respond to the increase of migrants. Presently, an estimated 15,000 migrant children make up a total of 50,000 migrants held in detention centers across the country.
As U.S. refugee and immigration admissions numbers are slashed to all-time lows and funding for assistance programs are systemically cut, local immigrant communities are greatly affected. From 2017 to 2018, a quarter of resettlement agencies closed or received no refugees, forcing layoffs and closures. The implications are troubling: when agencies shutter, local immigrant communities are often losing their only partner in advocacy, employee-readiness, and healthcare and wellness access. While the reduction in admissions numbers and grants may be temperamental, nationwide agency closures have a long-term consequence for the capacity of local communities to facilitate resettlement and assist immigrant community members.
We are in a tumultuous time, in which refugees and immigrants are fervently targeted by public media and legislation and the long-term effectiveness of the non-profit network is in jeopardy. Within this moment, Nationalities Service Center will continue to survive and thrive by building organizational resilience and fortitude to stand ready for the formidable challenges ahead and continue walking alongside its clients.
Grounding Philosophy
NSC will continue to survive and thrive through this troubling moment in the modern history of immigration in this country. We will build our organizational resilience and infrastructural fortitude to stand ready for the increasingly formidable challenges ahead.
Working in communities and with strategic partners, we will deliver client-centered programs with data-driven precision, professionalism, and a cultural humility befitting the wide range of clients we serve.
We will celebrate our past, take inventory of our present and advocate for a future that posits NSC as an anchor of welcome for generations of immigrants to come.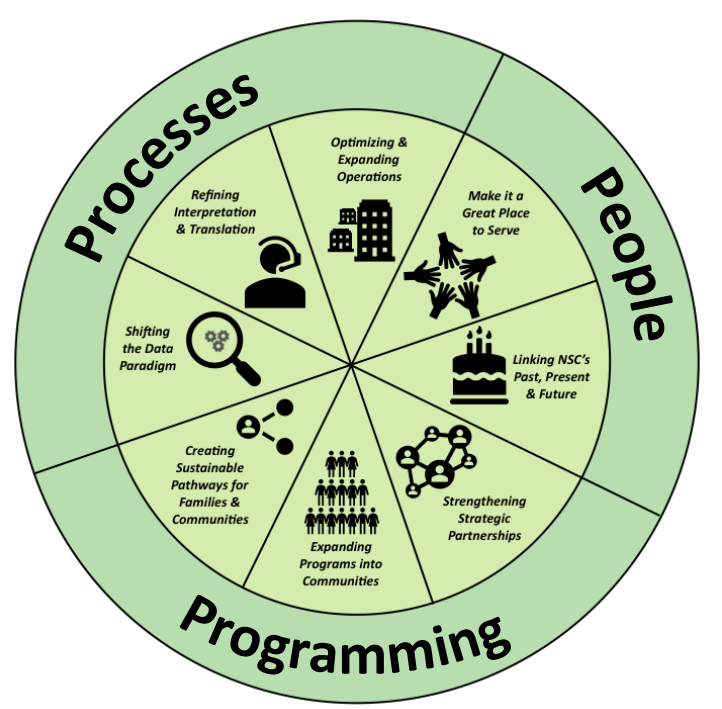 Download