Join us for interactive virtual cooking demonstration series with chefs from around the world—Kenya, Honduras, Iran, and Urkaine! Starting September 14th, a different chef will share their culinary talents and traditional dishes through cooking demonstrations, on a bi-weekly basis. You can follow along and prepare the dish to enjoy yourself!
Here is how you can participate:
The day before the event, you will receive a special link to access that week's cooking demonstration and the ingredients you'll need.
Each week, you will be able to access the video with this link at 6 pm. You will be able to access the video for one week after the event if you cannot make it or want to watch it again!
Take photos of your finished dish and post on Instagram and/or Facebook with #NSCCOOKSAROUNDTHEWORLD to be entered into a raffle for a $50 gift card to the Reading Terminal Market.
This is a free event, but we recommend a donation of $15 to help NSC serve immigrants and refugees in the greater Philadelphia area.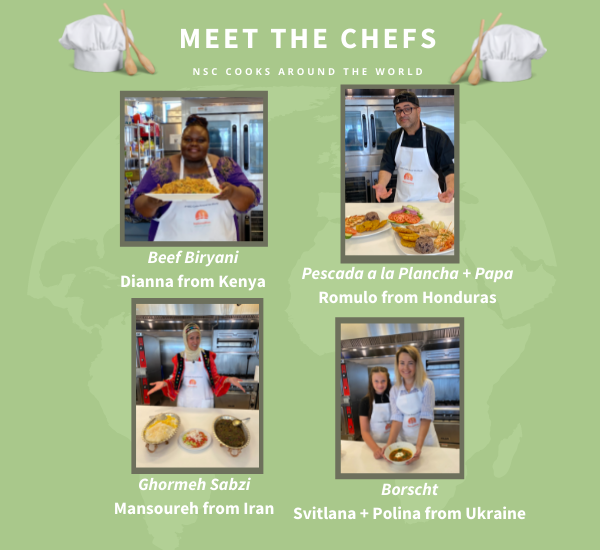 Week 1: Beef Biryani with Dianna from Kenya RELEASED 9/14/21
Week 2: Pescada a la Plancha & Papa with Romulo from Honduras RELEASED! 9/28/21
Week 3: Ghormeh Sabzi with Mansoureh from Iran RELEASED! 10/12/21
Week 4: Borscht with Svitlana & Polina from Ukraine NEWEST RELEASE! 10/26/21
Love to cook? Looking to improve your English?
Edible Alphabet is a free English program offered by the Free Library's Culinary Literacy Center. In this class, students will learn vocabulary and grammar, as well as practice listening, speaking, reading, and writing in English while cooking a new delicious recipe every week.
Classes are currently being offered online - click here to register.